Why we made Hormone Helper
Why we made
Hormone Helper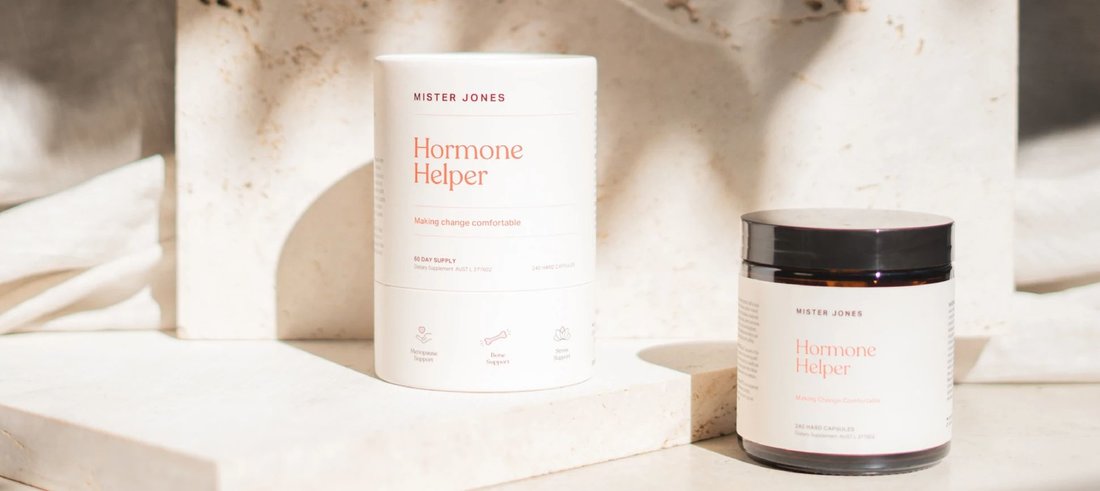 All women go through it. But we don't talk about it.
Just like puberty, it's a natural phase of life. But puberty isn't shrouded in the same veil of 'taboo'.
It can be uncomfortable, complicated, and in some ways, even liberating. No matter your experience with menopause, one thing's for sure – you deserve support, comfort, and care through this chapter.
And that's why we made Hormone Helper.
---
The story behind Hormone Helper
Hormone Helper's journey didn't begin with Hormone Helper at all. It began with The Perfect Pair.
That's right – our newest supplement's story began with our very first products.
You see, we created The Perfect Pair with the primary goal of helping women overcome their poor sleep and low energy.
Because bad sleep is never just bad sleep and low energy is never just low energy, this vitamin duo was formulated to address the contributing factors of poor sleep and low energy, such as:
• Stress
• Brain function
• Metabolism
• Thyroid health
• PMS
• Digestion
• Immunity
• Stress
• Brain function
• Metabolism
• Thyroid health
• PMS
• Digestion
• Immunity
Shortly after The Perfect Pair was launched, the reviews began rolling in.
We expected our customers to talk about feeling more energised, less stressed, and better rested.
What we didn't expect was to hear that for some, The Perfect Pair had seemingly offered relief from the uncomfortable symptoms of menopause.
---
Take a look for yourself…
These stories from our community inspired us. And then? They drove us to action.
Because the women sharing these stories of relieving their menopause symptoms as a positive 'side effect' of another supplement – they deserved better.
They deserved targeted support that was all-in. Support that was formulated specifically to help them find comfort in perimenopause, menopause and beyond.
It was time for menopause to have it's time in the sun.
It was time to harness the power of nature to give women the support they deserved.
It was time to design a clearly defined and targeted menopausal supplement
And this is how Hormone Helper came to be.
---
Formulated with tri-pillar support
Every woman's experience with menopause is unique - but there's a few familiar threads that run through most.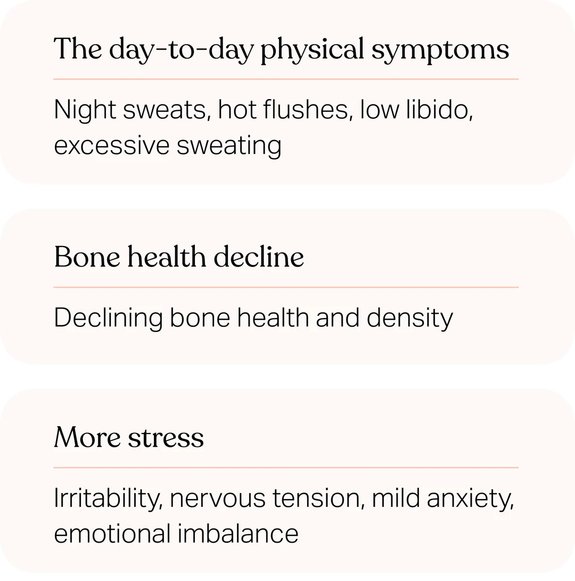 Hormone Helper was made to offer support that specifically speaks to each of these key pillars.
---
Most women in perimenopause and beyond experience uncomfortable symptoms that impact their day-to-day quality of life.1
Hot flushes, night sweats, and sweating are some of the most common symptoms2, and unsurprisingly – it's these symptoms that are known to wreak some of the most havoc.
If you've endured these symptoms before, you'll know all too well the toll they can take.
One study even reports that women with severe vasomotor (hot flushes, night sweats, sweating) symptoms are 3.58 times as likely to experience a deteriorated quality of life.3
Unfortunately, damp clothes, dewy brows, and the compulsion to stand in front of the open fridge aren't the only ways that menopausal symptoms rear their head in the day-to-day.
For many women, menopausal changes can also affect their life's sexual domain.
It's important to note here that hormones are rarely the sole catalyst for desire-arousal shifts. Relationship issues, psychological factors, health issues, body image and medications may contribute to sexual shifts.4
Regardless of the cause, decreased libido isn't inherently a problem – it's only a problem if it's negatively impacting you.
"If your libido or desire for sex goes down, it's okay. It does not necessarily mean something is wrong with you but instead may be a perfectly normal response to fatigue from perimenopausal sleep disturbance, declining estrogen levels, or simply sexual boredom after 20 or 30 years of marriage," says naturopathic doctor, Lara Briden.
To help more women take back control from the day-to-day menopausal symptoms that are impacting their lives, Hormone Helper has been formulated with traditional Western and Ayurvedic herbals – chaste berry, garden sage, and shatavari – to help relieve hot flushes, night sweats, and sweating as well as support libido health.
What goes into our menopause support complex:
Taking steps to prevent against bone loss is one of the most important things you can do to support your health and well-being through menopause.
Research indicates that menopause increases bone loss as well as the risk of developing osteoporosis, with 1 in 10 women over the age of 60 affected by osteoporosis.5
While the early stages of bone loss don't typically trigger physical changes, osteoporosis may cause symptoms such as:
•

Back pain

•

Stooped posture

•

Increased likelihood of bone breaks and fractures
For healthy bones, Hormone Helper's bone health complex brings together; calcium, vitamin D and vitamin K2.
Studies show that vitamin D supplements are an effective way to prevent osteoporosis in peri- and post-menopausal women who aren't getting adequate intake through their diet.6 In addition to this, vitamin K2 has been reported to decrease the incidence of fractures in women with post-menopausal osteoporosis.7
When paired with a calcium-rich diet, Hormone Helper's bone health complex has the power to support bone density and development.
What goes into our bone support complex:
Irritability. Mild anxiety. Feeling like your emotions are driving.
For many menopausal women, these feelings are all too familiar.
It's common for menopause to cause increased mood disturbance, especially for women who are experiencing vasomotor symptoms such as hot flushes, night sweats, and excessive sweating.8
To help support emotional stability and healthy stress response through menopause, our stress support complex combines traditional herbals ashwagandha and magnolia vine with activated vitamin B6 to support emotional balance, relieve nervous tension, and support a healthy stress response.
What goes into our stress support complex: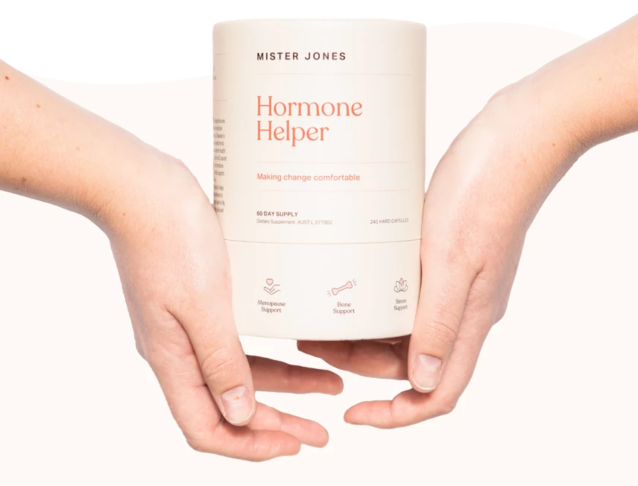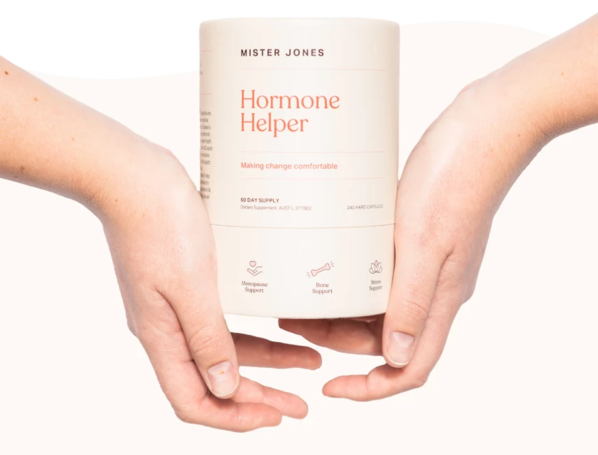 Your helping hand through perimenopause, menopause and beyond
Not here to 'fix' - because menopause isn't a problem.
Not here to 'stop' - because you can't fight nature.
Our class-leading menopause supplement, Hormone Helper was made by naturopaths to help you feel comfortable, capable, and in control through times of change.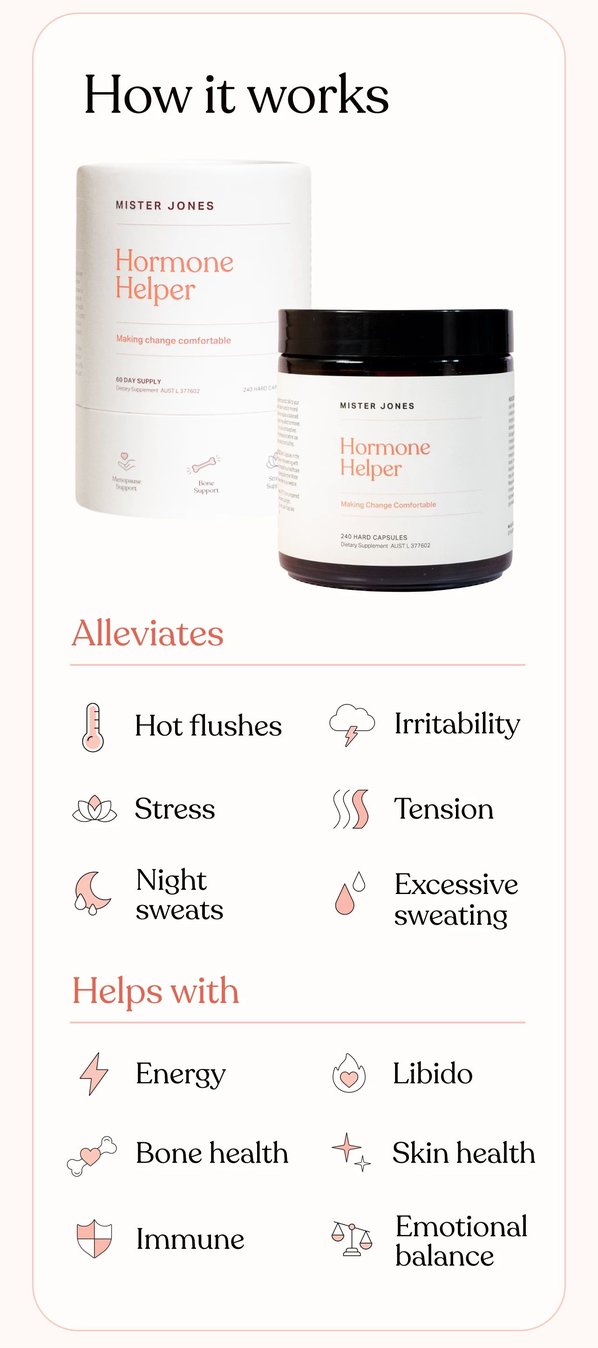 SHOP HORMONE HELPER
Always read the label. Follow the Directions for Use. If symptoms persist, talk to your health professional. This medicine may not be right for you. Read the warnings before purchase.
ACTIVE INGREDIENTS PER HARD CAPSULE: Pyridoxal 5-phosphate (vitamin B6) 6.57 mg, equiv Pyridoxine 4.5 mg; Menaquinone 7 (vitamin K2) 45 microgram; Calcium hydrogen phosphate dihydrate 150.80 mg, equiv Calcium 35.12 mg; Asparagus racemosus (Shatavari) ext dry conc 43.75 mg, derived from dry root peel 875 mg; Salvia officinalis (Garden sage) ext dry conc 150 mg, derived from dry leaf 750 mg; Schisandra chinensis (Magnolia vine) ext dry conc 15 mg, derived from dry fruit 375 mg; Vitex agnus-castus (Chaste berry) ext dry conc 50 mg, derived from dry fruit 500 mg; Withania somnifera (Ashwagandha) ext dry conc 37.50 mg, derived from dry root 750 mg
WARNINGS: If symptoms persist, talk to your health professional. Vitamin and/or mineral supplements should not replace a balanced diet. Vitex agnus-castus may affect hormones and medicines such as oral contraceptives. Consult your health professional before use. Contains soya bean products.
DIRECTIONS FOR USE: Adults take 2 hard capsules, with water after food, twice a day, or as directed by a healthcare professional