Ever felt, well...
flat?
You know, just not quite right, not bad, not sick, just not as good as you think you could? People around you happily buzzing by, in what seems like a different gear? While you're left thinking…am I missing something? If that sounds familiar, you're not alone and it's the reason our founder spent years (emphasis on the plural here) searching for a solution. That quest saw her leave a prominent position in one of Australia's largest e-commerce businesses to pursue formal study as a Naturopath in hope of solving her own health's interest. *more on her story later…
During her studies she quickly realised that a large proportion of women she knew had similar feelings of uncertainty towards their health - thus sparking the desire to find a solution not just for herself, but also, for all womankind.
Working alongside a team of industry experts, diving through thousands of hours of research and tirelessly testing (on herself, not animals) she finally found a winning combination of vitamins, minerals & herbs that ticked all the boxes. Twelve months later, The Perfect Pair was born - a simple, easy to follow, animal and gluten free way of helping women to feel their best.
Miss Jones (and yes, that is her real maiden name) found through her own experience that feeling your best, brings out your most confident self, which is really important because when you're confident, you're more likely to go out and get the things you want out of life; love, family, career or all of the above – it doesn't matter… whatever it is that drives you, it can't be done without good health and feeling great.
Mister Jones exists to provide a range of high quality, vegan friendly, gluten free products that help all womankind feel their best.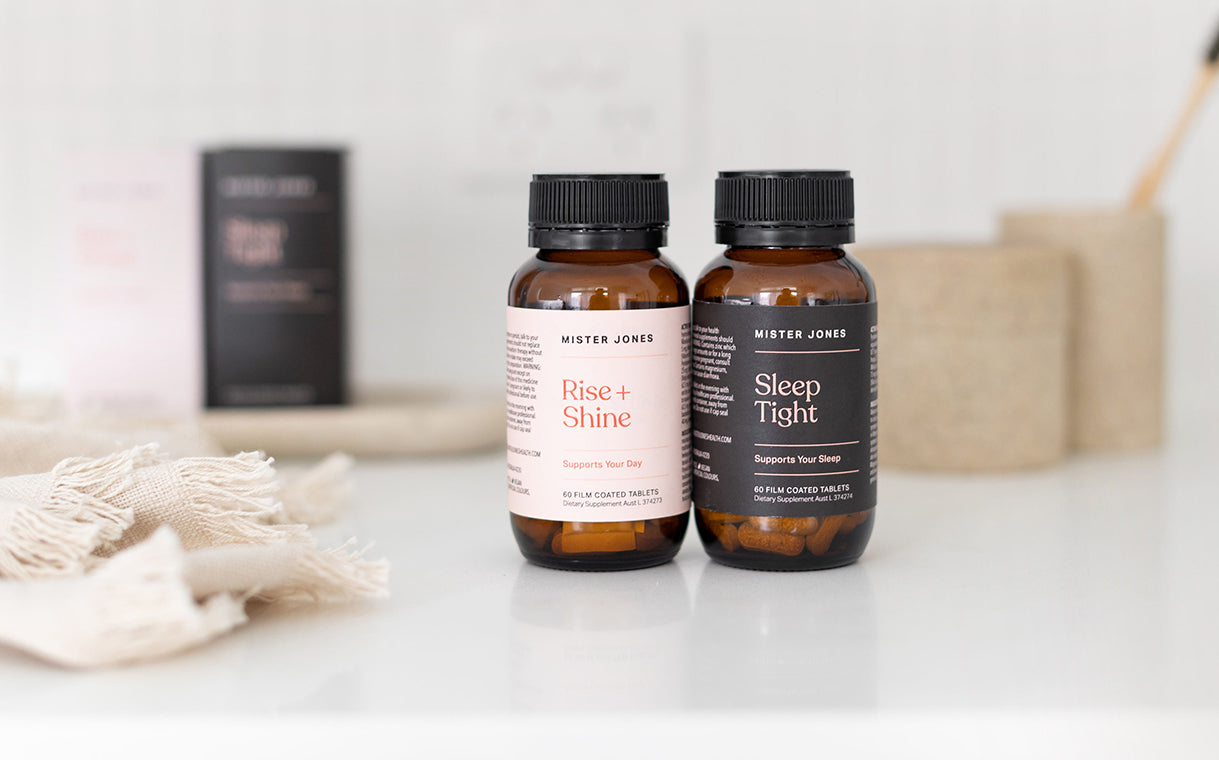 The foundress
Miss Jones prefers to remain out of the spotlight, hence the business name, a pseudonym of the founders. She lives in a sunny beachside town of Queensland with her business partner husband (that's where the 'Mister' comes from) and their beautiful baby daughter….who thinks sleep is optional!
The busy, now Mrs Jones, uses The Perfect Pair every single day because she wholeheartedly believes in the products she's created and like most mums, needs all the help she can get chasing her widely energetic toddler around. Not to mention juggling the added pressures of running a household and small business.
Things that matter
Quality
Our products are Australian made in  accordance with the Therapeutic Goods Administrations (TGA) requirements within a Certified Good Manufacturing Practice (cGMP) facility. 
No nasties
No gluten, yeast, wheat, artificial colours, flavours or preservatives, dairy or lactose, MSG, soy, nuts or egg means that we can help the most sensitive of intolerant tummies.
Price
Our pledge is to price our products at the lowest viable price point which still allows us to exist as a business. Why? you ask. Because we're not a big corp only here for money - I won't name names…We have a genuine desire to help all womankind feel their best.
---
Vegan
Our plant-derived ingredients mean no animals have been harmed in the production or testing of our products.
Environment
We love the environment can't believe how human kind still treats earth like a dump and ignores climate change. It may be small but we do what we can, all packaging is recyclable. From the glass bottles to the cardboard box and even the compostable mailer aka satchel.  
You
We genuinely care about you and are here to serve. If you have any queries at all, big or small, we'd love to hear from you.