7 Things You Need To Know About Collagen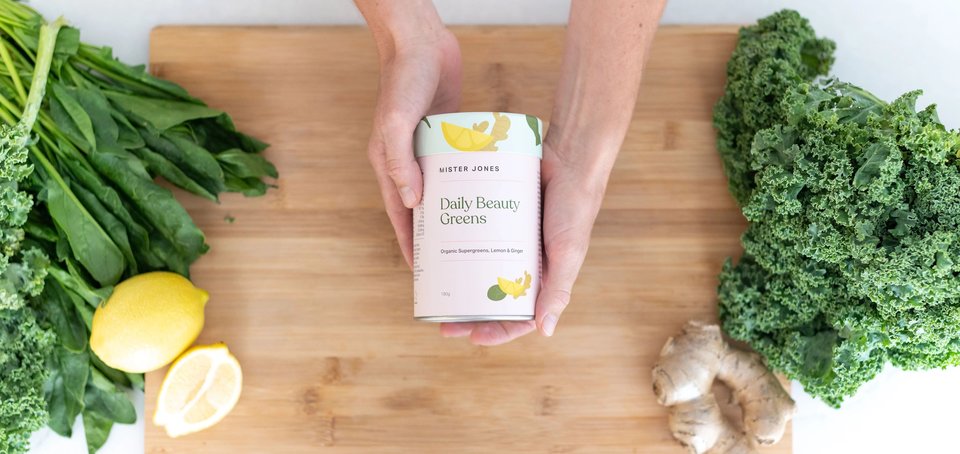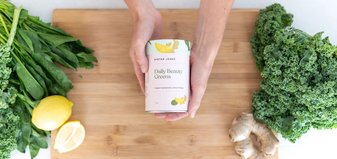 Collagen products are growing more popular by the day. But few of us have a comprehensive understanding of what it is, what it does, and how it works.
That's why we've consulted the research and rounded up 7 of the most surprising facts about collagen.
01. Our bodies create it naturally
Our bodies create collagen naturally through absorbing nutrients from food.
Collagen proteins are a vital part of who we are – our bodies have been making it from before we were born and will continue producing it for the rest of our lives.
It accounts for 75% of our skin's structure1, which is why the first signs of collagen loss are fine lines, hollowed cheeks, and sagging skin.
02. Collagen products are made from animals
Almost all products containing collagen are made from animals.
The bones, skin, and connective tissue of pigs, cows, and fish is usually labeled as 'porkine', 'bovine', and 'marine' collagen, respectively.
03. Vegan collagen isn't available... yet
Contrary to the marketing claims, there is currently no vegan collagen on the market yet.
Currently, research is being conducted into genetically modifying various plant and bacteria sources2 to make a vegan-friendly collagen supplement. But it's likely to be some time before it'll be on the market.
04. It's not just a beauty product
Collagen is key for beautiful skin. But it has also been proven to:
• Promote healthy hair and nail growth3, 4
• Maintain gut health5
• Help mitigate joint pain6
• Improve heart health7
Collagen is the major protein that forms all soft tissue, so it benefits everything from muscles to vital organs, to connective tissue.
05. Age, lifestyle, and diet decrease collagen
Natural collagen production declines due to age, sun exposure, poor diet, smoking cigarettes, and drinking too much alcohol8,9.
Studies have shown that unhealthy lifestyles have a direct connection with wrinkled skin – the key indicator of collagen loss10.
06. The research is inconclusive
Not all researchers are convinced that animal-derived collagen is the wonder ingredient it's touted to be.
While there's evidence to support its effectiveness, the scientific community still has doubts.
"Most of the studies [on animal-derived collagen products] were either fully or partly funded by cosmetic or supplement companies. This means the results of the research should be interpreted with caution, especially when the affiliation statement shows the study authors were also employed by the supplement manufacturer," 11 says Professor Clare Collins, Laureate Professor in Nutrition and Dietetics at the University of Newcastle.
And that's not all. There's also concerns around the fact that collagen molecules are too large to be absorbed by the human body.
"Consuming collagen doesn't necessarily support production of collagen in the body," says Dr Patricia Farris MD, a Clinical Associate Professor of Dermatology at Tulane University School of Medicine in New Orleans12.
This concern is also echoed by industry experts who agree that including collagen in lotions and creams isn't effective.
According to New York Dermatologist, Dr. Jessica Krant, "Despite the important role of collagen in skin, adding collagen in a topical product is worthless in terms of anti-aging benefits. While topically applied collagen will moisturize the skin, that's about the extent of what it can do. Applying collagen topically has never been shown to stimulate collagen synthesis or growth. This is because collagens have molecular weights making them too large to penetrate the top layer of skin"13.
For our bodies to produce collagen naturally, we need vitamin C, selenium, lysine, proline, silica, zinc, and glycine from our diets.
Our bodies are unable to make these nutrients themselves, so the only possible way to get them is through the foods we eat.
Because we spent over a year researching and developing how to create the best edible beauty product on the market.
After uncovering the research outlined above - we knew we couldn't ethically use collagen. So we got to work formulating something even better...



Naturally alkalising and full of antioxidants, organic greens gently detoxify, balance, and fill nutrient gaps.
For more good skin days, our mix of vegan collagen boosters create, rejuvenate, and repair tissues for healthy skin, hair, nails, muscles, joints + more.
Say bye-bye to bloating and hello to a healthy gut microbiome with our combination of prebiotics, three strains of probiotics, and digestive enzymes.
For natural energy without the crash, look no further than the clinically proven activated B vitamins from organic quinoa sprouts.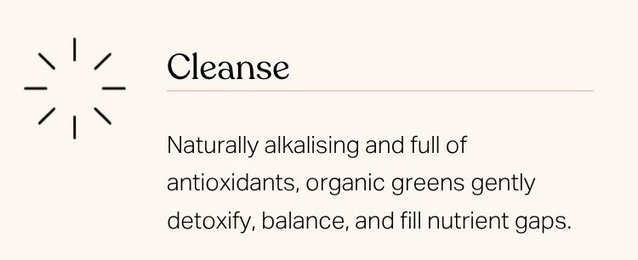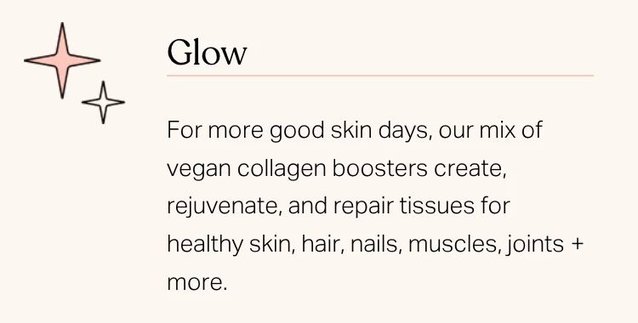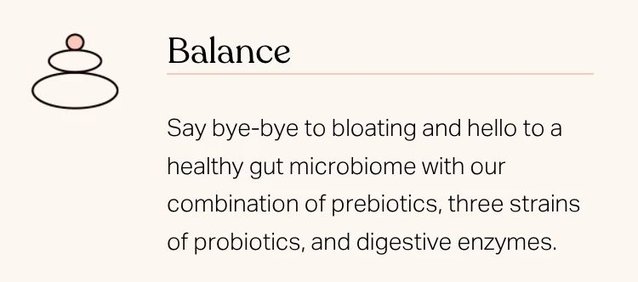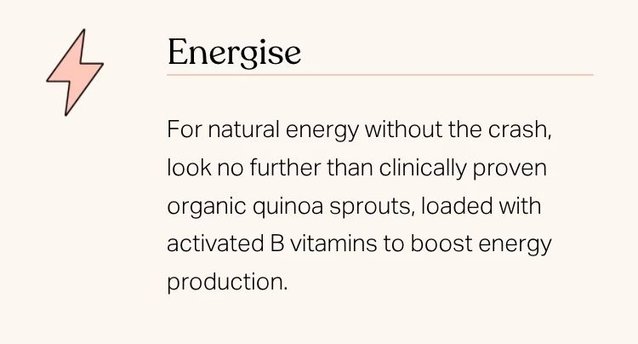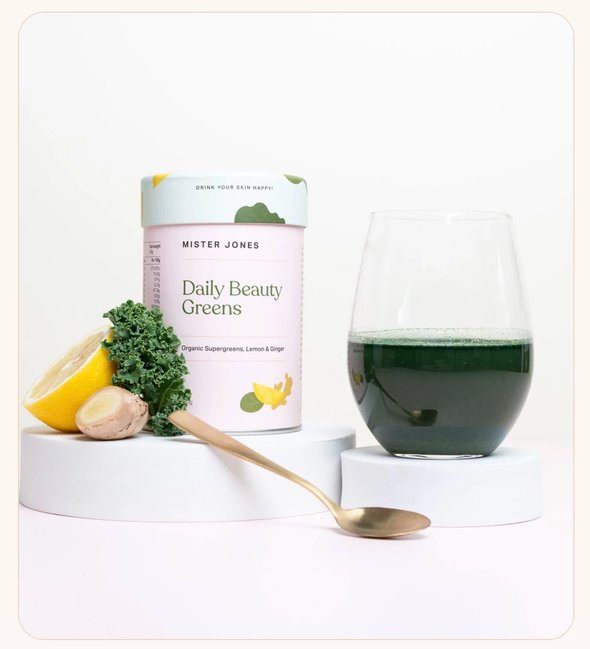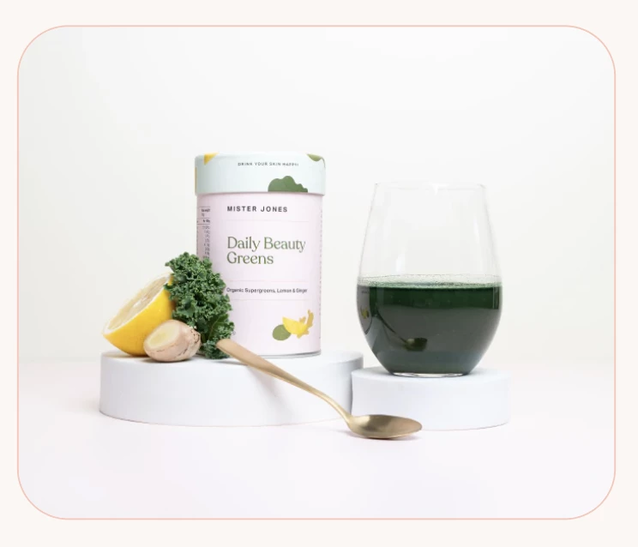 Use code GOGREEN for free express shipping! Daily dispatch from our Sydney warehouse.
LEARN MORE

We'll let our customers answer that one for you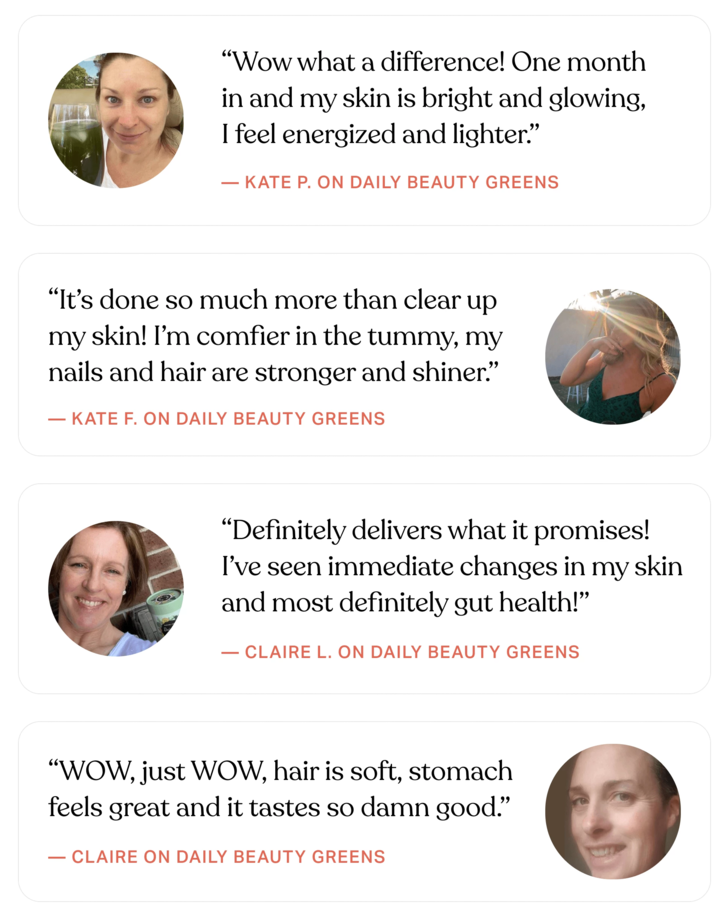 READ MORE
Formulated to make your skin smile
Crafted by naturopaths, our signature greens powder supports gentle detoxification, natural collagen production, gut health, and energy production.
Use code GOGREEN for free express shipping! Daily dispatch from our Sydney warehouse.
*Always read the label. Follow the directions for use. If symptoms persist, talk to your health professional. Vitamin and mineral supplements should not replace a balanced diet.
1. Choi, FD, Sung, CT, Juhasz, MLW & Mesinkovska, NA 2019, 'Oral collagen supplementation: a systematic review of dermatological applications', J Drugs Dermatol, vol. 18, no. 1.
2. Báez, J, Olsen, D & Polarek, JW 2005, 'Recombinant microbial systems for the production of human collagen and gelatin', Applied Microbiology and Biotechnology, vol. 69, pp. 245–252.
3. Ablon, G & Kogan, S 2018, 'A six-month, randomized, double-blind, placebo-controlled study evaluating the safety and efficacy of a nutraceutical supplement for promoting hair growth in women with self-perceived thinning hair', J Drugs Dermatol, vol. 17, no. 5, pp. 558-565.
4. Hexsel, D, Zague, V, Schnuck, M, Siega, C, Camozzato, FO & Oesser, S 2017, 'Oral supplementation with specific bioactive collagen peptides improves nail growth and reduces symptoms of brittle nails', J Cosmet Dermatol, vol. 16, no. 12, pp. 520-526.
5. Mei, F, Duan, Z, Chen, M, Lu, J, Zhao, M, Li, L, Shen, X, Xia, G, Chen, S 2020, 'Effect of a high-collagen peptide diet on the gut microbiota and short-chain fatty acid metabolism', Journal of Functional Foods, vol. 75.
6. Porfírio, E & Fanaro, GB 2016, 'Collagen supplementation as a complementary therapy for the prevention and treatment of osteoporosis and osteoarthritis: a systematic review', Brazilian Journal of Geriatrics and Gerontology, vol. 19, no. 1, pp. 153-163.
7. Tomosugi, N, Yamamoto, S, Takeuchi, M, Yonekura, H, Ishigaki, Y, Numata, N, Katsuda, S & Sakai, Y 2017, 'Effect of collagen tripeptide on atherosclerosis in healthy humans', Journal of Atherosclerosis and Thrombosis, vol. 24, no. 5, pp 530–538.
8. Reilly, DM & Lozano, J 2021, 'Skin collagen through the lifestages: importance for skin health and beauty', Recent Advances in Skin Anti-aging Agents, vol. 8, no. 2.
9. Sørensen, LT 2006, 'Effect of lifestyle, gender and age on collagen formation and degradation', Hernia, vol 6, pp 456-461.
10. Schagen, SK, Zampeli, VA, Makrantonaki, E, Zouboulis, CC 2012, 'Discovering the link between nutrition and skin aging', Dermatoendocrinol, vol. 4, no. 3, pp 298–307.
11. Collins, C 2021, 'Thinking about trying collagen supplements for your skin? A healthy diet is better value for money', The Conversation, viewed 16 July 2021, <https://theconversation.com/thinking-about-trying-collagen-supplements-for-your-skin-a-healthy-diet-is-better-value-for-money-152240>
12. Santa Cruz, J 2019, 'Dietary collagen – should consumers believe the hype?', Today's Dietician, vol. 21, no. 3, p.26.
13. Krant, J 2017, 'The Role of Collagen in Skin Care', The Art of Dermatology, viewed 16 July 2021, <https://artofdermatology.com/role-collagen-skin-care/>